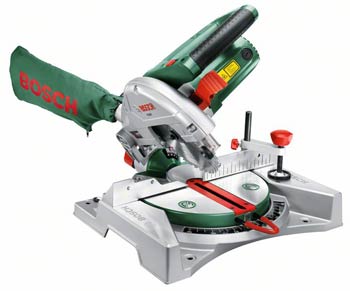 Bosch Mitre Saw
PCM 7
The mitre saws from Bosch are always the right choice thanks to their high precision: they saw wide panels and filigree picture frames alike at exactly the desired angle. The integrated slide function increases the possible cutting capacity, therefore providing a more versatile range of applications.

The PCM 7 Mitre Saw is perfect for accurate sawing of thick workpieces – precision due to laser. Powerful 110 watt motor for the toughest applications. Adjustable laser beam – the perfect sawing aids for straight and precise cuts

Part no. 0 603 B01 270

• Combination clamp for horizontal and vertical fixing of the workpiece with quick-action lock
• High-quality aluminium construction
• Dust extraction port and complete with dust bag

COMPLETE WITH
• Combination clamp
• Dust bag

TECHNICAL DATA
• Power input 1.100 W
• No-load speed 4.800 rpm
• Circular saw blade nominal diameter 190 mm
• Circular saw blade bore diameter 30 mm
• Cutting capacity at 90°/90° 50 x 110 mm
• Cutting capacity at 45°/90° 34 x 110 mm
• Mitre adjustment 46 ° L / 46 ° R
• Incline setting 45 ° L
• Machine weight 8,0 kg

FUNCTIONS
• Softgrip
• Laser as a sawing aid

NOISE/VIBRATION INFORMATION
Measured values determined according to EN 60745
The A-rated noise level of the power tool is typically as follows: Sound pressure level 93 dB(A); Sound power level 106 dB(A). Uncertainty K= 3 dB.